កាលពីថ្ងៃព្រហស្បត្តិ៍ ៥កើត ខែបឋមាសាឍ ឆ្នាំថោះ បញ្ចស័ក ព.ស.២៥៦៧ ត្រូវនឹងថ្ងៃទី២២ ខែមិថុនា ឆ្នាំ២០២៣ គណៈគ្រប់គ្រងនៃសាលាបច្ចេកទេស ដុនបូស្កូ ភ្នំពេញ តាមរយៈលោកនាយក ប៉ាង ប៉ូទី និងលោកគ្រូ វ៉ៃ ប៊ុនធឿន បានរៀបចំធ្វើបទបង្ហាញ ពីរបៀបគ្រប់គ្រងសំរាមក្នុងស្ថាប័ន (សាលា) ។ ក្នុងនោះផងដែរ លោកគ្រូវ៉ៃ ប៊ុនធឿន បានពន្យល់ការបែងចែកចំណាត់ថ្នាក់នៃសំរាមក្នុងសាលាបច្ចេកទេស ចំនួន៣គឺ៖ ១.ពណ៌លឿង (កំប៉ុង សំបកដប សំបកឡាំង …. ដែលអាចប្រើប្រាស់ ឬលក់បាន) ។ ២. ពណ៌ខៀវ (កំទេចកំទីនៃមែកឈើ ស្មៅ ស្លឹកឈើ សំបកពងមាន់ ……. សម្រាប់ធ្វើជាជីកំប៉ុស្ត) ។ ៣.ពណ៌ខ្មៅ ( ស្បោង ថង់ផ្លាស់ស្ទិច កែវជ័រ ទុយោជ័រ សម្ភារកាកសំណល់វេជ្ជសាស្រ្ត…… ដែលត្រូវវិចខ្ចប់ឲ្យខាងស៊ីនទ្រី)។
ក្នុងនោះផងដែរលោកនាយក បានផ្តាំផ្ញើឲ្យសិស្ស និស្សិតអនុវត្តន៍ឲ្យបានខ្ជាប់ខ្ជួន ទាំងក្នុងសាលា លំនៅដ្ឋាន ឬតាមទីសាធារណៈនានា។ជាកូនល្អ សិស្សល្អ ពលរដ្ឋល្អ បរិស្ថានស្អាត គឺចាប់ផ្តើមពីខ្លួនយើង។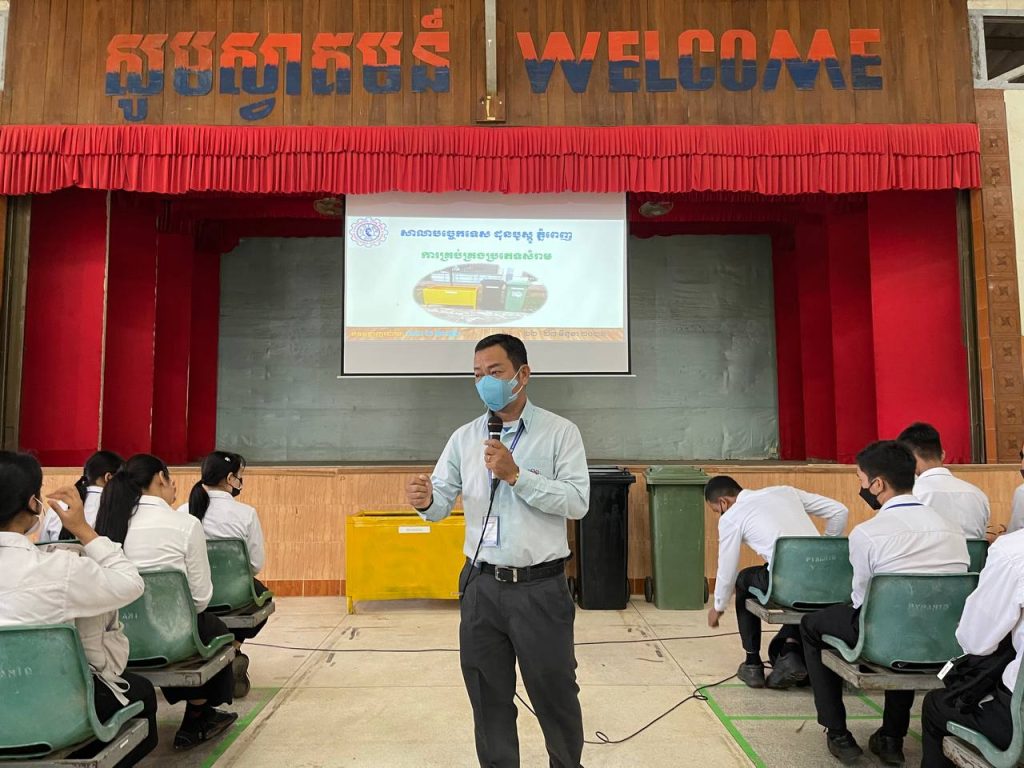 Last week on Thursday, 22, June, 2023 , the management of Don Bosco Technical School in Phnom Penh, through Mr. Pang Poty Headmaster and Mr. Vey Bunthoeurn, gave a presentation on how to manage. Garbage in the institution (school). In addition, Mr. Vey Bunthoeurn explained the classification of waste in three technical schools: 1. Yellow (cans, bottles, cans …. that can be used or sold). 2. Blue (debris of twigs, grass, leaves, eggshells ……. for composting). 3. Black (plastic bags, plastic cups, plastic pipes, medical waste materials …… to be packed for Cintri).
In addition, the principal instructed students to practice consistently in schools, homes or in public places.
As good children, good students, good citizens, clean environment starts with ourselves.